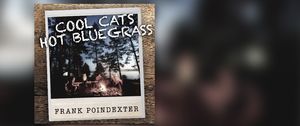 Frank Poindexter has been a fixture on the bluegrass scene in the Appalachian region for the past 40 years or more. His accomplished reso-guitar sound has graced stages and recordings with his nephews, Tony, Larry, and Wyatt Rice, as well as with Vassar Clements and Dickie Betts. 
These days Frank plays as a member of Deeper Shade Of Blue, based in central North Carolina, and is featured on their current album, Steam. 
Poindexter is also a clever and witty guy, who has taken a crazy idea for a song, and turned it into a new single for Mountain Fever Records. 
He tells us how it went from a concept, to a bluegrass novelty song, and then to a finished product. 
Read More:
https://bluegrasstoday.com/cool-cats-hot-bluegrass-from-frank-poindexter/