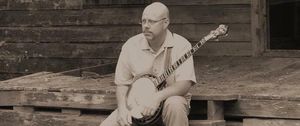 Following the surprise retirement of banjo player Jim Fraley earlier this month, Deeper Shade Of Blue has announced that Steve Wilson of Westminster, SC will become their new five string man. 
It wasn't a tough choice for the group, as Steve has been their go-to fill-in guy for the past year and a half. He knows the material, and the guys, and everyone gets along well together. 
Wilson says that he is ready to take on this position, knowing he has big shoes to fill. 
"I am very excited about what the future holds with these guys and humbled to have been chosen to step in where such an iconic musician is taking his exit. Jimmy Fraley has been a staple in not just this band, but the bluegrass music community as a whole and that is not something I take lightly. I'm looking forward to continuing forward with Deeper Shade, making great records and playing fun shows. This is a great fit for me as a banjo player and for my life." 
Read More - https://bluegrasstoday.com/steve-wilson-to-deeper-shade-of-blue-on-banjo/